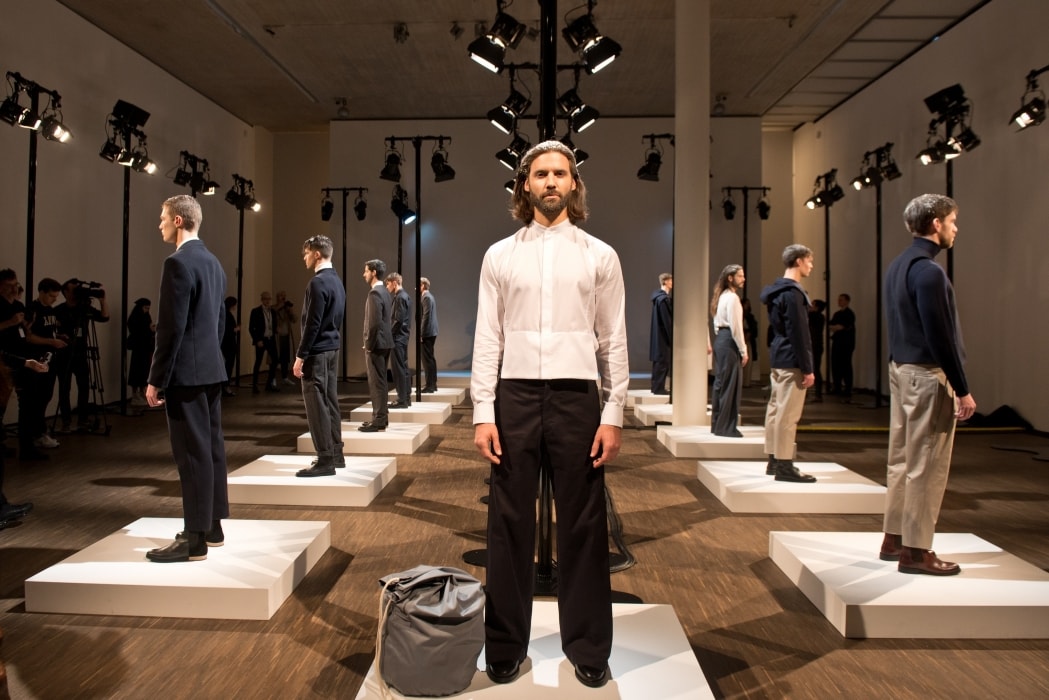 Kommenden Winter grüßt der Nordpol. Zumindest modisch gesehen. Denn Jennifer Brachmann ließ sich für ihre neueste Kollektion "Explorer" von der ersten Expedition in die arktische Nordwestpassage inspirieren. Aber keine Sorge, wer nun glaubt, die Designerin hätte ihre Models Funktionskleidung präsentieren lassen, den kann ich beruhigen: Brachmann ist eine weitere sportlich-elegante Herren-Kollektion mit zeitlosem Charme gelungen.
Das Label: Brachmann
Based in: Berlin
Kollektion: "Explorer" Herbst Winter 2017/18
Showtermin: Dienstag, 17. Januar 2017, 12 Uhr auf der Stage im me collector's room.
Am 19. Mai 1845 stach der britische Polarforscher Sir John Franklin mit 133 abenteuerlustigen und wagemutigen Männern in See, um nach einem nördlichen Seeweg von Amerika nach Asien zu suchen. Zur damaligen Zeit glaubte man an ein eisfreies Nordpolarmeer. Leider scheiterte die Expedition, die Schiffe blieben im kanadischen Packeis stecken und die Mannschaft starb daraufhin an Hunger und Kälte.
Was von solchen Unternehmungen bleibt, ist die Entdeckerlust und der Glaube an Träume. Wo sich vor 170 Jahren einst Eisberge auftürmten, können seit dem Sommer 2008 Kreuzfahrtschiffe passieren. Das eisfreie Polarmeer wurde also zu einer sich selbst erfüllenden Prophezeiung.
Diesen Entdeckergeist brachte Jennifer Brachmann auch in ihre aktuelle Kollektion ein.
Sie blieb den klassischen Brachmann-Farben treu, die nicht besser zum rauen Polarthema passen könnten: Grautöne, Beige, Marineblau und Schwarz.
Passenderweise waren die Modelle gestylt, als hätten sie soeben den Untergang der Titanic überlebt: Eisstückchen schienen ihnen auf dem Haar sowie an Augenbrauen und Wimpern zu kleben. Dieses originelle Make-Up verfeinerte gekonnt die Mode.
Eine große Bandbreite an Hosenmodellen wurde präsentiert: Sehr weit und ausgestellt aus derbem grauen Stoff mit hohem Bund, in 7/8-Länge mit Bügelfalte und auf der Hüfte sitzend, sportlich mit länglichen Taschen an den Oberschenkeln oder klassisch als Teil eines Anzugs. Dazu wurden Pullover, kragenlose Shirts, dünne Rollkragenpullis oder Hemden kombiniert. Diese ließ Brachmann unter marineblauen Pullovern hervorblitzen oder mit dunklen Sakkos tragen. Ein absoluter Hingucker war ein Hemdenmodell mit Vatermörder, das ist ein steifer, hoher Stehkragen mit nach oben abstehenden spitzen Enden, der zur Zeit des Biedermeier hohe Verbreitung hatte. Eine andere Variante zeigte eine Art Latz in Bauchhöhe. (Möglicherweise als Hommage an den Kombüsen-Chef?) Hier ließ besonders deutlich das 19. Jahrhundert grüßen. Wer hätte gedacht, dass die Arktis so inspirierend sein kann.
Für die Präsentation auf der MBFW Berlin kooperierte das Männerlabel mit Giovanni De Benedetto von Candida Kandinskji, der ein Live-DJ Set performte. Mehr Information über diese künstlerische Kooperation findet Ihr hier: candidakandinskij.com
Mehr über das Label und die Designerin Jennifer Brachmann: brachmann-menswear.com
See you at the CIRCUS of FASHION,
Ulrike
Von der eisig-schönen Präsentation des nostalgischen Herren-Labels berichtete Ulrike Stockmann für CIRCUS of FASHION & Verführer – Das Beste aus Berlin.
Fotos: Rafael Poschmann (Lookbook), Annette Riedl & Thies Streifinger (Show)