Circus of Fashion ist die Manege für Modedesigner und Accessoire-Designer – für lokale oder internationale Designerlabels und noch unbekannte Start ups. Hochverehrtes Publikum, hier findet Ihr die aktuellen Kollektionen individuell und unabhängig ausgewählter Modemacher. Lust auf Shopping und auf der Suche nach Inspiration? Hereinspaziert, liebes Publikum! Manege frei!
Circus of Fashion is the arena for fashion designer and accessoire designers – for local or international fashion labels and yet unknown start ups. Esteemed audience, here you will find the latest collections from individually and independently selected fashion designers. Wanna go Shopping and enjoy some inspiration? Come in, dear audience! Let the show begin!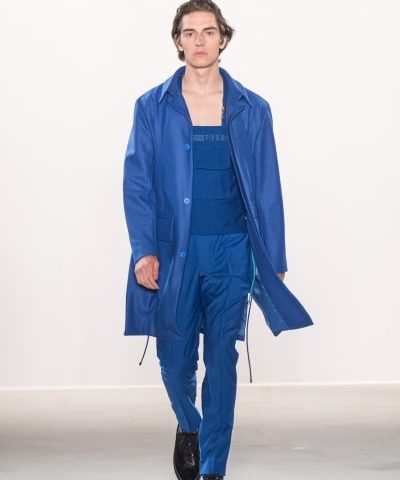 14
Jul
In Style we trust - Mercedes Benz Fashion Week SS2017
---
Bei der Eröffnungsmodenschau der Berlin Fashion Week Spring Summer 2018 waren viele … blau. Beuys is back – so der Titel der IVANMAN Spring Summer 2018 Kollektion, für die sich der Designer Ivan Mandzukic sowohl von Joseph Beuys oft getragener Anglerweste als auch von traditioneller Arbeitskleidung, dem Blaumann, hat inspirieren lassen. Nach einem flüchtigen Blick […]
Kommenden Winter grüßt der Nordpol. Zumindest modisch gesehen. Denn Jennifer Brachmann ließ sich für ihre neueste Kollektion "Explorer" von der ersten Expedition in die arktische Nordwestpassage inspirieren. Aber keine Sorge, wer nun glaubt, die Designerin hätte ihre Models Funktionskleidung präsentieren lassen, den kann ich beruhigen: Brachmann ist eine weitere sportlich-elegante Herren-Kollektion mit zeitlosem Charme gelungen. […]
Am Freitag Nachmittag der Fashion Week ließ sich Ulrike von Sammler Berlin an die französische Riviera entführen. Modisch versteht sich. Lest hier Ulrikes Fashion Ticker von der Riviera. Oh, pardon. Von der Show: "Unter dem Titel "Côte d'Azul" entführte uns die Designerin Rebecca Sammler an die legendäre französische Riviera. Meerjungfrauen-Gewänder im 60er-Jahre-Look verzauberten das Publikum […]
Ulrike besuchte für Euch am Morgen von Tag 4 der Fashion Week (trotz/mit Maisonnoée-Party-Kater) die Präsentation des Mannermode-Labels Brachmann – Postclassical Menswear. Ein 'Hurra' auf Ulrike! Lest hier ihren Fashion Ticker frisch von der Show: "Elegante, unaufdringliche Herren-Mode mit einem Hauch Extravaganz ist typisch für BRACHMANN. Moderne Gentlemen können sich für Frühjahr und Sommer 2017 […]
Offsite, nämlich in der Kreuzberger Galerie Crone zeigte WendyJim an Fashion Week Tag 3 seine Mode für Frühling/Sommer 2017. Sarah hat sich die außergewöhnliche Präsentation angesehen. Und kommt zu einem klaren Urteil. Hier ihr Fashion Ticker für Euch: "Das 1999 von Helga Ruthner und Hermann Fankhauser gegründete Label WendyJim zeigt in dieser Saison nach zahlreichen […]
Maisonoée beschloss mit der Abendshow den Tag 3 der Mercedes Benz Fashion Week. Diese Show hatten wir uns ausgesucht, um sie mit dem versammelten Redaktionsteam anzusehen und hinterher auf der Eröffnungsparty des nigelnagelneuen Maisonnoée-Stores in einem zauberhaften Hinterhof an der Potsdamer Straße 91 mit einem Glas Jules Mumm auf die Fashion Week anzustoßen. Großes Lob […]
In Style wie trust - SAMMLER SS2016 - MBFW
---
Fashion Safari
---
ON THE STREETS OF BERLIN
Herzlich Willkommen, Welcome, Bien Venue, Ola ...